WOOX R7046 Smart PIR Motion Sensor

Components
IntroductionThe smart PIR motion sensor detects movement and send real-alert notification to smartphone.
Requirement to use
Tuya smart app
Tuya zigbee gateway (not included)
Installation
Pull the insulation sheet from battery compartment of the PIR motion sensor.
Set up the PIR motion sensor with Tuya smart app.
Make sure the PIR motion sensor is in the range of Zigbee gateway's signal.
It is recommended to install the PIR motion sensor at 2.2m height. It's detection angle is 110°, detection distance is up to 6 meters.
Attach the PIR motion sensor to wall with provided screws (Machining 4 mm screw hole with screw driver on PIR motion sensor and 6 mm hole in the wall, and insert expansion sleeves into the wall) or double-sided mounting tape.
Replace battery
Take the PIR motion sensor off from bracket base first, then replace the battery.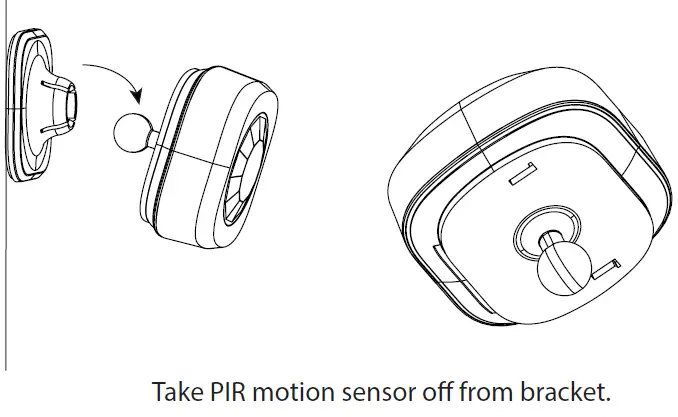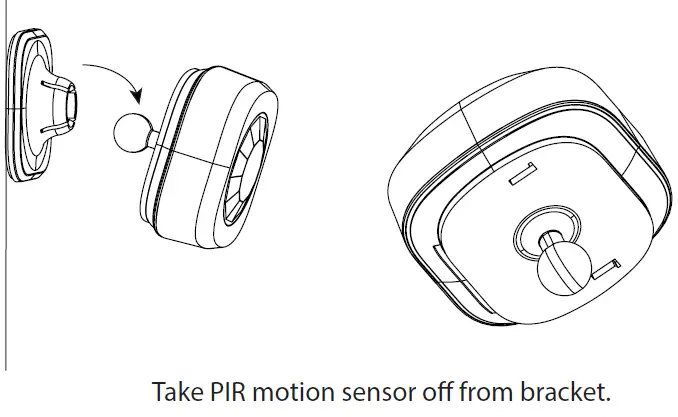 Set up the PIR motion sensor with Tuya smart app
Download and install the app "Tuya smart" from Apple App Store or Google Play Store on your mobile device.
Launch the app "Tuya smart".
Create a new account or log in to your existing account.
Tap "+" to add the device.
Select the applicable product type from the list of products.
Select a Zigbee Gateway.
Ensure the indicator light is quick flashing. If the indicator light isn't flashing: press and hold the reset button for 5 seconds until the indicator light starts to quick flashing.
Press confirm button in the Tuya smart app.
The app will now search for the device and register is to your account.
Enter the device name.
Specification
Battery: CR2450 x 1 (included)
Dimension: 57x57x52mm
Detection angle: 110°
Wireless connection: Zigbee 3.0
Connection distance: indoor 10-30m
Frequency: 2.4-2.483GHz
Working temperature: -10℃ – 50℃
Working humidity: 0-95%RH, no condensation
Caution:
This device complies with Part 15 of the FCC rules and Industry Canada license‐exempt RSS standard(s). Operation is subject to the following two conditions: (1) this device may not cause harmful interference, and (2) this device must accept any interference received, including interference that may cause undesired operation.
The manufacturer is not responsible for any radio or TV interference caused by unauthorized modifications or change to this equipment. Such modifications or change could void the user's authority to operate the equipment. This radio transmitter (identify the device by certification number or model number if Category II) has been approved by Industry Canada to operate with the antenna types listed below with the maximum permissible gain indicated. Antenna types not included in this list, having a gain greater than the maximum gain indicated for that type, are strictly prohibited for use with this device.
This equipment has been tested and found to comply with the limits for a Class B digital device, pursuant to part 15 of the FCC Rules. These limits are designed to provide reasonable protection against harmful interference in a residential installation. This equipment generates, uses and can radiate radio frequency energy and, if not installed and used in accordance with the instructions, may cause harmful interference to radio communications. However, there is no guarantee that interference will not occur in a particular installation. If this equipment does cause harmful interference to radio or television reception, which can be determined by turning the equipment off and on, the user is encouraged to try to correct the interference by one or more of the following measures:
Reorient or relocate the receiving antenna.
Increase the separation between the equipment and receiver.
Connect the equipment into an outlet on a circuit different from that to which the receiver is connected.
Consult the dealer or an experienced radio/TV technician for help.
The device has been evaluated to meet general RF exposure requirement. To maintain compliance with FCC's RF exposure guidelines, this equipment should be installed and operated with a minimum distance of 20cm between the radiator and your body.

[xyz-ips snippet="download-snippet"]