Mi Smart Home HubUser Manual
Product Overview
The Mi Smart Home Hub is a smart home control center that can connect with Wi-Fi, Zigbee, and Bluetooth smart devices. The hub and other devices can be freely combined into a ßexible and diverse system to realize remote control for mobile phones, and smart scenes for smart home devices. You can control every aspect of your smart home by turning on the light when opening the door, turning off devices when leaving home, detecting and notifying about abnormal events, so on and so forth.Note:This product is intended for indoor use only.

Press and hold for 10 s: Reset networkPress the times: Restore factory setting.
Indicator & Beeper Description
| | |
| --- | --- |
| Hub Status | Indicator & Beeper Status |
| Starting | Orange |
| Awaiting connection | Blinking orange, one short beep |
| The hub's network function will automatically turn off after 15 minutes if it has not been connected to a network. | White |
| Connecting to network | Blinking blue |
| Connected to network successfully | Two long beeps |
| Working properly | Blue |
| Adding child device | Blinking purple |
| Child device added successfully | Two long beeps |
| Couldn't add child device | One short beep |
| Child device deleted successfully | Three short beeps |
| Guard enabled | One long beep |
| Guard disabled | One long beep |
| Sending alert notifications | Continuous short beeps |
| Firmware update | Blinking orange |
Installation
Select the installation location of the hub.Note:It is recommended to place the hub 2–6 meters away from the router it will be connected to, and there should not be any mental obstacles in between or around the hub and the router.
Connect the hub to a power supply by using a 5 V= 1 A or a 5 Vr, 2 A adapter and power cord. Overvoltage will cause the hub to work improperly.
After the hub is connected to the power supply, it will enter the awaiting connection mode and its indicator will change from orange to blinking orange. The hub can now be connected to the Mi Home/Xiaomi Home app.
Connecting with Mi Home/Xiaomi Home AppThis product works with Mi Home/Xiaomi Home app Control your device and interact it and other smart home devices with Mi Home/Xiaomi Home app.Scan the QR code to download and install the app. You will be directed to the connection setup page if the app is installed already. Or search "Mi Home/Xiaomi Home" in the app store to download and install it. Open Mi Home/Xiaomi Home app, tap "+" on the upper right, and then follow prompts to add your device. 'The app is referred to as Xiaomi Home app in Europe (except for Russia). The name of the app displayed on your device should be taken as the default.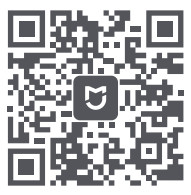 http://home.mi.com/do/index.html?model=lumi.gateway.mgl03
Note: Make sure your phone is connected to a 2.4 GHz Wi-Fi network before adding the hub. Hold your phone as close to the hub as possible for a better connection, and make sure both your phone and the hub are connected to the same Wi-Fi network. If the hub cannot be added, press and hold the function button for 10 seconds until the indicator turns orange, then try adding it again. Due to updates to the app, the actual steps may differ. Please follow the instructions based on the current version of the app.
Works with Apple HomeKit
After the hub and the Mi Home/Xiaomi Home app are connected, scan the HomeKit code on the hub or in the user manual, or enter it manually. Follow the on-screen instructions in the app to complete the setup. Once it is added successfully, you can check the hub in the Apple Home app. Please properly keep the HomeKit setup code. Notice Communication between iPhone, iPad, Apple Watch, HomePod, or Mac and the HomeKit- enabled Mi Smart Home Hub is secured by HomeKit technology. A customer who owns an Apple TV (4th generation or later) with tvOS 10 or later, an iPad with iOS 10 or later, or a HomePod can control HomeKit-enabled accessories while away from home or through automatic triggers such as time of day, location, sensor detection, or the action of an accessory. Use of the Works with Apple badge means that an accessory has been designed to work specifically with the technology identified in the badge and has been certified by the developer to meet Apple performance standards.  Apple is not responsible for the operation of this device or its compliance with safety and regulatory standards.
Add a Child Device
After the hub is connected successfully, please refer to the user manual of the child device on how to add it to the hub. If HomeKit is already connected with the hub and the child device supports HomeKit, the child device will automatically synchronize with HomeKit after it is added to the hub, and can be viewed via the Apple Home app. By setting up scenes and automation via the Mi Home/Maomi Home app, a wide variety of automated controls can be implemented.
Specifications
Model: ZNDMWG02LMDimensions: 090 x 25 mmRated Input: 5 V

1 A or V

2AOperating Temperature: -5°C to 50°COperating Humidity: 0-95% RH, non-condensingWi-Fi Operation Frequency: 2412-2472 MHzWi-Fi Maximum Output Power < 20 dBmBluetooth Operation Frequency 2402-2480 MHzBluetooth Maximum Output Power < 13 dBm ZigbeeOperation Frequency: 2405-2480 MHz ZigbeeMaximum Output Power < 13 dBmWireless Connectivity. Wi-Fi IEEE 802.11 b/g/n 2A GHz, Zigbee 3.0, Bluetooth 5.0
Hereby, [Lumi United Technology Co., Ltd] declares that the radio equipment type [Mi Smart Home Hub, ZNDMWG02LM] is in compliance with Directive 2014/53/EU. The full text of the EU declaration of conformity is available at the following internet address: http://www.mi.com/global/service/support/declaration.html

All products bearing this symbol are waste electrical and electronic equipment (WEEE as in directive 2012/19/EU) which should not be mixed with unsorted household waste. Instead, you should protect human health and the environment by handing over your waste equipment to a designated collection point for the recycling of waste electrical and electronic equipment, appointed by the government or local authorities. Correct disposal anc recycling will help prevent potential negative consequenc-es to the environment and human health. Please contact the installer or local authorities for more information about the location as well as the terms and conditions of such collection points. The Bluetooth® word mark and logos are registered trademarks owned by Bluetooth SIG, Inc. and any use of such marks by Xiaomi Inc. is under license. Other trademarks and trade names are those of their respective owners. Under normal use of conditions, this equipment should be kept a separation distance of at least 20cm between the antenna and the body of the user.
[xyz-ips snippet="download-snippet"]