XPOWER B-16S Stand Pet Dryer Owner's Manual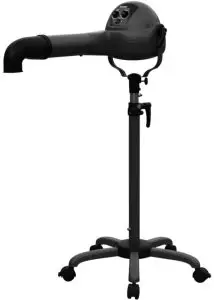 Introduction
XPOWER B-16S Stand Pet Dryer is designed and engineered to be powerful, super lightweight and energy-efficient professional level pet dryer. The B-16S model comes with many unique and revolutionary features. Its BRUSHLESS DC MOTOR produces large volumes of air and wide range of air adjustment. The ANION TECHNOLOGY provides negative ionization and gives the dryer a low static drying capability. The XPOWER B-16S Stand Dryer comes with a variable speed control that gives you a full range of control of motor speed from 0 to 300 rated CFM. The variable temperature settings can easily satisfy all your needs during drying. The B-16S Stand Dryer is essential for those who desire better grooming for pets and greater profits for their business.
Special Features
Variable Motor Speed Control — can change airflow settings from 0 to 300 CFM.
Variable Heat Control- can adjust temperature to meet all pet drying needs.
Powerful Brushless DC Motor – high performance, reliability, energy-efficiency, no brush-change need and easy maintenance.
Rotating Nozzle – swivels 360° for different drying directions.
Patented Leg Stand – sturdy and foldable 5-leg stands with lockable casters.
Easy-to-clean Air Filters – help to blow clean air and prevent debris and pet hair into the motor.
Spring Assisted Pole Stand -adjustable height up to 5 ft.
Anion Technology – produces negative ionization for low static pet drying capability.
Operation / Instructions
XPOWER B-16S Stand Dryers are designed for hands-free pet drying.
Carefully follow the assembly instructions.Inspect the unit completely for any shipping damage or missing parts.
Upon assembly, place the dryer on a flat surface. Plug the electrical cord into a 3-prong outlet.
Press the POWER switch to "ON".
Turn on the AIR FLOW switch to desired speed. At the same time, it offers anion low static air flow until the AIR FLOW switch turns off.
Turn on the HEAT switch to desired temperature.
All Dryers in operation must be supervised at all times.
Use the stand adjustment handle to set the desired height and make sure to tighten the handle afterwards.
Instructions for Professional Features

Adjustment / Accessories
Turn two handles at both side of Pet Dryer clockwise to tighten, counter- clockwise to loosen.
Tiltable head for different angle positionsSelf-Rising Pole with height adjustment
Accessories – FilterA dual filter system is included with the XPOWER B-16S Pet Dryer, which will help prevent small debris and pet hair from entering the unit. To clean the filter, remove both filter layers from the unit and wash with warm soapy water, rinse with clean water and let dry thoroughly before reinstalling.
Filter located at the bottom of motor
Specifications
| | | | |
| --- | --- | --- | --- |
| Volt / Cycle | 115V / 60Hz | Cord Length | 13 Ft. |
| Motor | 1/4 HP | Rated Airflow | 300 CFM |
| Max. Amp | 15 Amps. | Heater | Variable (Stepless) |
| Weight | 17 Lbs. | Housing | ABS |
| Speeds | Variable (Stepless) | Filter System | YES |
| ANION | YES | – | – |
Assembly
Unfold the patented foldable 5-leg stand. Attach the five wheels to the stand base. Attach the lower stand pole to the base by screwing the pole to the center screw in the base.
Attach the dryer motor to the top stand pipe.
Attach the air outlet flexible nozzle and straight pole to the dryer motor assembly.
Plug the unit, turn on the switch and start using your XPOWER Stand Dryer.
Dryers Parts List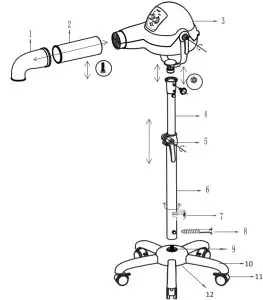 Fig. 1
| | |
| --- | --- |
| Item No. | Parts Name |
| 1 | Air outlet flexing nozzle |
| 2 | Straight hose |
| 3 | Dryer motor assembly |
| 4 | Upper stand pole |
| 5 | Stand adjustment handle |
| 6 | Lower stand pole |
| 7 | Spring Assist Bolt |
| 8 | Phillips Base Screw |
| 9 | Stand base screw |
| 10 | Foldable stand legs |
| 11 | Leg Wheels |
| 12 | Base |
Installation Tips and Hints
Part #10 & #11Unfold 5-legged base. Snap the five leg wheels to foldable stand legs.
Part #7 & #8Using a Phillips Screwdriver, remove base screw (Part #8) and set aside.DO NOT ADJUST SPRING ASSIST BOLT (Part#7).
Part # 6 & # 9Attach bottom of stand pole onto base, turning clockwise to make sure parts 6 & 9 are screwed together tightly.Part # 8Align stand pole so that screw hole for Phillips base screw fits in between grooves (Fig. 2)Tighten Philips base screw (Part#8).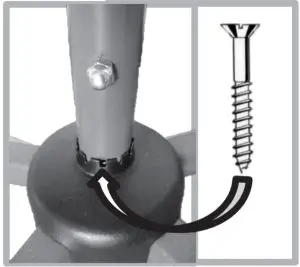 Fig. 2
Part #3 & #4Connect Upper Stand Pole to Dryer Motor Assembly.
Part # 2 & # 3There are notches on both straight hose and motor. Assemble and align them properly before joining them together, then screw them in tightly.
Safety Instructions
WARNING: IMPORTANT SAFETY PRECAUTIONS!PLEASE READ COMPLETELY BEFORE USING PRODUCT!When using electrical appliances, especially when children or animals are present, basic safety precautions should always be followed to reduce the risk of fire, electric shock, and personal injury. These include, but are not limited to the following:
Do not leave the dryer and animal unattended while the product is in use.
Unplug dryer when not in use.
Do not use extension cords with the dryer product.
Do not unplug unit by pulling on cord.
Do not expose dryer to rain or water.
Unplug unit before attempting any maintenance or service.
Do not let air-intake get clogged.
Do not direct dryer air towards eyes or ears of people or pets.
Never use dryer with a damaged cord/plug or when unit has been dropped, damaged, or exposed to rain/water. Please call our Technical Department for service or repair.
Do not use any other nozzles not intended for use with the dryer.
Do not operate without filter in place. Keep filter clean, as a dirty filter limits air intake and may damage the motor or cause overheating.
Plug only into a properly grounded receptacle. Always confirm that the amperage rating of the electrical outlet complies with the Dryer rating.
Do not use product for anything other than its intended purpose.
Do not attempt to perform any service or maintenance not outlined in the instruction manual.
XPOWER Limited Warranty
XPOWER Warranty covers the unit from defects in materials and craftsmanship. The Warranty covers normal use for a term of one year from original date of purchase; including parts, labor and one way shipping.
Important !The Warranty does not cover signs of misuse including, but not limited to, a unit that has been dropped, subjected to water damage, tampered with, or has been subject to improper voltage use and/or unauthorized maintenance and repairs.The POWER CORD and FILTER are not covered by the warranty.
Service
For Warranty service and parts replacement (US user only), you must:
Call 1-626-285-3301 for a RMA (Return-Merchandise-Authorization) number.
Have original proof of purchase.
Use the original undamaged packaging or an Industrial certified packaging method.
The end user will be responsible to ship back the unit (with RMA Number showing on the shipping label) to the XPOWER Service Department. XPOWER to inspect, assess and advise the repairs needed and the applicable cost, if any.
For users outside the US, please contact XPOWER Distributor in your country or region for Warranty service and parts replacement.
Maintenance Instructions
To keep the dryer clean, use a damp cloth to wipe the surface of the housing.
Never clean the unit with water.
When not in use, unplug and store the XPOWER Pet Dryer in a dry indoor place out of reach of children.
Always disconnect the XPOWER Pet Dryer from its power source before performing any maintenance or cleaning.
Clean the filter as often as necessary to avoid loss of airflow.
Troubleshooting
For any problems not listed below, call your local distributor or contact our Service Department.
PROBLEM

POSSIBLE CAUSE

SOLUTION

Pet Dryer not running
No power input
Plug in the dryer; check circuit breaker
Air Flow Switch not turned on
Turn on the Air Flow switch
Unit fan jammed
Contact our Service Department
Pet Dryer vibrates excessively
Fan out of balance
Contact our Service Department
Warranty Registration (for US user only)
For your product warranty, please complete and mail / fax this form to XPOWER MANUFACTURE, INC.Address: 220 Clary Ave., San Gabriel, CA 91776.Tel: 626-285-3301Fax: 626-285-3302(For your convenience, register your product online at xpower.com)
Your Name / Company Name: ______________________________________________________
Contact Name: ______________________________________________________
Title: ______________________________________________________
Zip: _____________________________________________
Address: __________________________________________________________________
City: _________________________________________
State: ___________________________________________
Stand Pet DryerModel #: ____________________________________
Serial #: ______________________________________________________
Date of Purchase: ____________/______________ /_____________
Purchased From: ______________________________________________________
From: _________________________________________________________________
TO: XPOWER MANUFACTURE, INC.220 Clary AvenueSan Gabriel, CA 91776, USATel: 626-285-3301Fax: 626-285-3302
Support
XPOWER MANUFACTURE, INC.220 Clary AvenueSan Gabriel, CA 91776, USATel: 626-285-3301,Fax: 626-285-3302www.xpower.com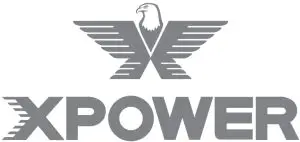 References
[xyz-ips snippet="download-snippet"]