Xtreme Gaming XCA2-1016 LED Gaming Speaker Instruction Manual
LED GAMING SPEAKERS ENCEINTE GAMING LED INSTRUCTION MANUAL Description of Parts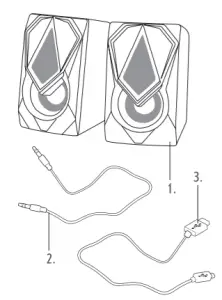 Gaming Speakers
Line-in Aux. Cable
 USB Power Cable
Please read all of the instructions carefully and retain for future reference.
Safety Instructions
To avoid the risk of fire or electric shock, do not operate the speakers in humid environments or expose to water.Plug the speakers into a compatible USB socket. Please ensure the speakers are well-ventilated. To extend the service life of the product – do not listen at loud volumes for extended periods as thiscan cause distortion.If any fault is identified with the unit please cease to use immediately. Do not subject the speakers to extreme heat or cold.Do not touch the speaker membranes with fingers or other objects, as this can damage the speaker membrane. When you are not using the speakers please disconnect them from the power supply.
Care and Maintenance
Wipe the speakers with a soft, damp, lint-free cloth and allow to dry thoroughly. Do not: Use any abrasive cleaning solvents to cleanthe speakers. Expose the speaker to extremely high or low temperatures. Drop the speakers. Attempt to disassemble the speakers. Dispose of the speakers in a fire.
Getting Started
Remove the speakers from the box. Remove any packaging from the speakers. Place the packaging inside the box and either store or dispose of safely.
Using the Speakers
STEP 1: Connect one end of the USB power cable to the speakers and the other end to a compatible USB socket.STEP 2: Connect one end of the line-in aux. cable to the speakers and the other end to a compatible computer's aux. output. Specifications Product Code: EE5802BLKBMFOB2 Speaker Output: 2 x 3 W Power Input: 5 V =
Read More About This Manual & Download PDF:
[xyz-ips snippet="download-snippet"]