343Mbps 8×4 DOCSIS 3.0
Cable Modem/Router with Wireless-N and Gigabit Ethernet
Model 5354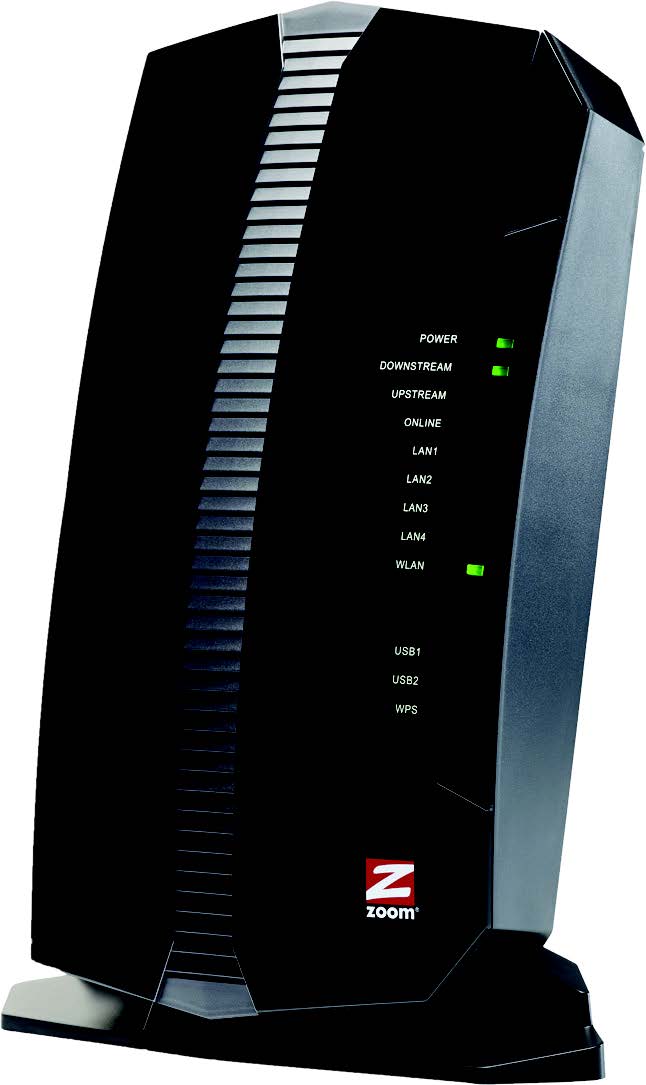 The Zoom Model 5354 Cable Modem/Router with Wireless-N supports cable modem speeds up to 343 Mbps. With its high speed and IPv4 and IPv6 networking support, this is a product designed and built for use today and for years to come. The embedded router with Wireless-N support continues the high-performance with 300 Mbps 2 X 2 MIMO for the range, wireless speeds and networking support needed for multimedia, Internet video and high-performance networking in a home or office.
DOCSIS 3.0 cable performance allows bonding of up to eight channels on downloads and four channels on uploads when used with the latest cable systems. A Full-band Capture Digital Tuner lets cable services deliver faster, more reliable Internet. Cable modem performance has been tested and approved by CableLabs®, the industry's non-profit test and certification authority. Additional testing and approvals have been obtained from Comcast®, Time Warner Cable® and other leading cable service providers.
Features of the Model 5354 include
DOCSIS 3.0 performance with CableLabs® certification
Up to 8 Downstream channels and 4 Upstream channels, for speeds as high as 343 Mbps on downloads and 123 Mbps on uploads with a Full-band Capture Digital Tuner.
Provides shared high-speed Internet over cable to:– WiFi®-compatible wireless 802.11n, g, and b devices, including computers, smart TVs, smartphones and tablets– Devices with an Ethernet port, including computers and game stations
Easy setup and management with Universal Plug and Play (UPnP), WPS wireless security setup, and browser-based management
An integrated four-port 10/100/1000 Mbps (Gigabit) Ethernet switch
Two USB ports with support for DLNA-certified media servers and network attached storage
Includes an advanced firewall and wireless security
Two-year warranty and support from Zoom, a USA-based leader in communications since 1977
Broadcom BCM3383G chipset
Specifications
Cable modem service interface:
F-type female 75 Ohm (standard coaxial connector)
Operating parameters

Status indicators:
Power, Downstream Link, Upstream Link, Online Status, 4 Ethernet LAN, Wireless Link, 2 USB ports, WPS
Ethernet LAN interface:
4 X RJ-45 10/100/1000 Mbps Ethernet, with Auto-MDI/MDIX
USB interfaces:
2 X USB 2.0 with UPnP and support for DLNA media servers and network attached storage
Wireless:
802.11n/g/b, 2X2 MIMO (Multiple Input Multiple Output)
Network addressing:
Router mode:
Dynamic DNS
Port Forwarding/DMZ support
DHCP Server and Client
RIP V1 and V2
NAT
Support for up to 253 client devices
Bridging
Quality of Service (QoS) support
Management:
SNMP v1, v2, v3
Security:
Stateful Packet Inspection (SPI)
Denial of Service Notification
VPN passthrough: PPTP, IPsec tunneling
Wireless MAC address filtering
Parental Control
Supports Baseline Encryption (BPI) Management
Attack Protection
Universal Plug and Play (UPnP)
Password protected system management
Cable modem diagnostic log
IP/MAC/Port filtering
Wireless networking and security:
Compliant with IEEE 802.11n, g and b standards
WEP-64/128
Up to 300 Mbps wireless data rate*
TKIP/AES
2 X 2 Transmit/Receive, MIMO
WPS
2.4 GHz – 2.484 GHz frequency range
802.1x Authentication
WDS
8 SSIDs
WMM/WME
Wireless Quality of Service
WPA-PSK/WPA2-PSK
Transmit power: 20dBm
WPA/WPA2
Two internal antennas
Size:
9.5″ high x 6.5″ wide x 1.25″ deep (24.1 x 16.5 x 3.2 cm)
Weight:
1.25 pounds (.57 kilogram)
Power adapter:
110V/220 VAC 50/60 Hz input into power adapter. 12 Volt 2 Amp output.NEMA 5-15 (North American style) plug is standard. Other plugs are available.
Operating temperature:
0° C to 50° C
System requirements:
The cable modem must be connected to a cable modem service that uses any of the DOCSIS standards — 3.0, 2.0, or 1.1.
Directly connected devices, such as computers, switches, and HomePlug adapters, must have an Ethernet port.
Devices connected wirelessly must have wireless-N, wireless-G, or wireless-B capability.
Warranty :
Two years
Approvals:
FCC 15B and 15C, Bureau Veritas for IEC 60950-1:2005 (2nd Ed.) safety, CE, Industry Canada, CableLabs®
Package contents:
DOCSIS 3.0/2.0/1.1 cable modem
Ethernet cable
Power cube
Quick Start Flyer
Stand

*300 Mbps is the maximum speed derived from IEEE Standard 802.11 specifications. Actual speeds will vary.
International HeadquartersZoom Telephonics, Inc207 South Street Boston, MA, 02111 USATel: 617-535-9383Fax: 617-423-3923
Email:
Website: www.zoomtel.com
OTCQB: ZMTP
© 2015 Zoom Telephonics, Inc. 207 South Street, Boston, MA 02111Zoom is a registered trademark of Zoom Telephonics, Inc.
All other registered trademarks and trademarks used herein are the property of their respective holders.
Zoom-5354 343Mbps 8×4 DOCSIS 3.0 Cable Modem/Router Specifications Manual – Zoom-5354 343Mbps 8×4 DOCSIS 3.0 Cable Modem/Router Specifications Manual –