AUDIX A140 Headphone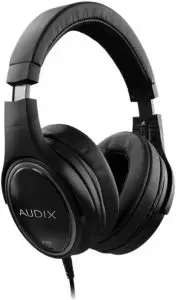 AVOID UNSAFE LISTENING
Listening to music through headphones at high volumes is unsafe and can cause damage to your hearing.BEFORE placing headphones on your ears, be sure that the levels of your music source are turned off. Place the headphones into listening position and slowly bring the volume up to a moderate level when in use.
CARE AND MAINTENANCE
With proper care and maintenance your Audix headphones are designed to give you many years of excellent performance.Store your headphones in the protective case at room temperature while not in use. Avoid extreme heat or cold temperatures, moisture and extended exposure to direct sunlight.When cleaning the product use a dry, soft cloth.Use the supplied Audix accessories with your product and authentic Audix replacement parts if needed.
WEARING AND ADJUSTING THE HEADSET
Your Audix headphones are adjustable to your head size and should be extremely comfortable after you find the right setting.When new, the headband will have a bit of extra tension. In time, they will loosen up and adapt perfectly to your head after usage. For this reason, headphones become extremely personal.DO NOT try to adjust the headset by stretching the metal band upward or outward as this could damage the tension needed for a good seal around the ear.Note that there is a left and right ear cup. They are marked on the inside of the headset with an "L" and "R". An easy way to remember this: the left side is always the one with the cable connector.
CONNECTING THE AUDIO CABLE
Your Audix headphones come with a 1.8 m high-quality audio cable. Both connectors are 3.5 mm stereo jacks. The jack with the smaller housing is designed to plug into the left earcup and the other jack with the threaded housing is designed to plug into the audio source.
When plugging in the connector to the ear cup, be sure to push the jack all the way in for a secure connection.Note: a threaded 3.5 mm to 6.35 mm adapter is provided for inputs requiring a 6.35 mm (1/4 in) jack.
SUPPLIED ACCESSORIES
Protective carrying case
CBLHP96 Headphone Cable – Detachable 1.8 m high density, 3 conductor – 96 strands of braided OFC, with soft nylon woven jacket with molded 3.5 mm (1/8 in) stereo mini jack
CBLHP96XL Headphone Cable – Detachable 3.0 m high density, 3 conductor – 96 strands of braided OFC, with soft nylon woven jacket with molded 3.5 mm (1/8 in) stereo mini jack (included with A150 & A152)
Threaded adapter for 3.5 mm to 6.35 mm (1/4 in) connections
OPTIONAL ACCESSORIES
CBLHP400 Audiophile Pro Headphone Cable – Detachable 1.5 m high density, 3 conductor – 400 strands of 8 Core braided OFC. 3.5mm (1/8 in) stereo jack
CBLHPEXT Headphone Extension Cable – Detachable 1.5 m high density, 3 conductor – 96 strands of braided OFC with 3.5 mm stereo female and male connectors
CBLHP96XL Headphone Cable – Detachable 3.0 m high density, 3conductor – 96 strands of braided OFC, with soft nylon woven jacket with molded 3.5 mm (1/8 in) stereo mini jack (included with A150 & A152)

[xyz-ips snippet="download-snippet"]