BEAM BMSLR11-1 Outback 11W Solar
 Panel User Guide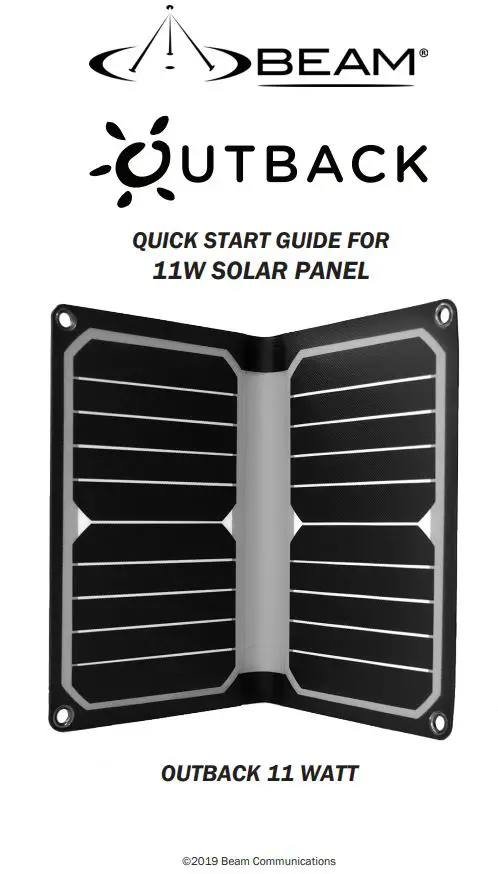 WHATS IN THE BOX
PACK CONTENTS
1x 11w Solar Panel
1x Micro USB Cable and Lightning Adaptor
2x Carabiner Clips
1x User Guide

USING THE PANEL
HOW TO CHARGE YOUR DEVICES:
Unfold the solar panel fully and move it to a well lit area with more direct sunlight.
Connect the solar panel to a mobile USB device to charge using the USB cable provided.
The mobile USB device will indicate it is charging as well as the LED lights on the solar panel. (See "LED Display" for more information)
If charging does not occur, disconnect and reconnect the USB cable and/or move the solar panel to a better location with more sunlight.
Do not leave your mobile USB device in direct sunlight as the battery could overheat and stop accepting charge from the solar panel.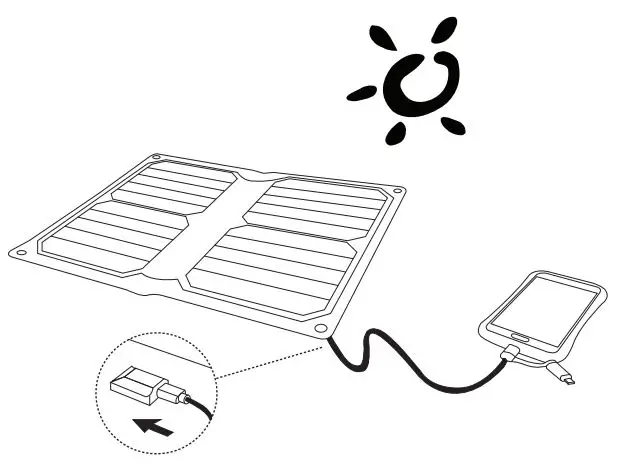 SPECIFICATIONS
Small in Size, Light Weight and Flexible. Easy to carry around and fits in a small bag or backpack.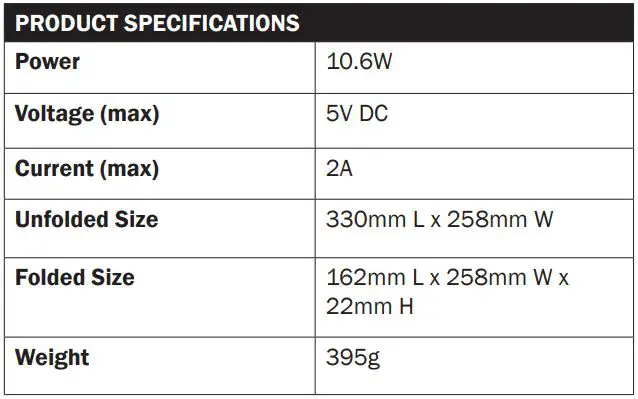 LED DISPLAY
The Outback 11W has 2 LED's that display the solar panels charging status. The multi-colour light represents the amount of mA being generated while the red light identifies the amount of sunlight captured.
SAFETY & MAINTENANCE
Please read the following carefully before using this product. Failure to observe the safety precautions may result in fire, excessive heat, or injury.
Keep away from sharp objects that may cut or damage the solar panel surface.
Avoid exposing to direct sunlight when not in use.
Avoid use if device temperature is greater than 70 C, or in high humidity or corrosive environments.
Do not dismantle, take apart, or reassemble.
Do not short the solar panel output's positive and negative terminals.
Do not burn.
If you wish to discard this product, please contact your local authorities or dealer and ask for the correct method of disposal.
FAQ
Can the solar panel charge a laptop? NO. This solar panel is designed to charge smaller devices such as phones, tablets and gaming devices.
Is the solar panel water resistant? The solar panel itself is water resistant, however when charging please avoid water getting into the regulated output.
How do I clean the solar panel? The panel can be cleaned carefully with a damp cloth. Please ensure that you don't get any water in the USB output.
WARRANTY
Users in Australia and New ZealandOutback Solar Panels come with a twelve (12) month warranty, from the date of shipment to the customer. This product comes with guarantees that cannot be excluded under the Australian Consumer Law (ACL) and similar legislation in New Zealand. Consumers are entitled to a replacement or refund for a major failure. Consumers are also entitled to have this product repaired or replaced if the product fails to be of acceptable quality and failure does not amount to a major failure. Please follow the product instructions for correct operation, and report problems promptly; problems caused by use that is abnormal or contrary to instructions will generally not be covered.
Limitations of Warranty/Local LawsThis Product is covered by Australian warranty. This Limited Warranty is applicable in all countries and is enforceable in any country or region where Beam offers warranty service for the Product. Outside of Australia, any different warranty terms, liabilities and/or legal requirements of the country in which the Product is sold are specifically disclaimed by Beam. Warranty service availability and response times may vary from country to country and may be subject to registration requirements in the country of purchase. Please contact Beam Communications for warranty support.

Beam Communications Pty Ltd5/8 Anzed CourtMulgrave, VictoriaAUSTRALIA, 3170Phone: +61 3 8588 4500[email protected] www.beamcommunications.com

References
[xyz-ips snippet="download-snippet"]