SONY CFI-ZMR1 Playstation 5 Media Remote Instruction Manual
Precautions
Before using this product, carefully read this manual and any manuals for compatible hardware.Retain instructions for future reference.
Safety
Small children injuries. Keep the product out of the reach of small children.
If a battery is leaking, do not touch the material from the leaking battery with bare hands.–– If a battery is leaking, stop using the product immediately and contact Customer Support.–– If the material gets into the eyes, immediately flush the eyes with clean water and seek medical attention. It may cause blindness.–– If the material comes into contact with the skin or clothes, immediately rinse the affected area with clean water. Consult your doctor if inflammation or soreness develops.
If a battery is leaking, immediately move the leaking battery away from fire. The material from the leaking battery or gas may ignite, causing fire or explosion.
Do not disassemble, heat, modify, or charge the batteries. Doing so may cause the batteries to leak or become damaged, which may lead to injury or burns.
Insert batteries in the correct direction. Batteries can short-circuit when their positive and negative ends are reversed. This may cause batteries to overheat, explode, or leak, which may lead to injury or burns.
Use only size AA batteries. Do not combine old and new, or different types of batteries. Using batteries of different capacities may cause explosion or leakage, which may lead to injury or burns.
Dispose of used batteries according to the battery manufacturer's instructions or local regulations.
Remove batteries when they have reached the end of their life, or when storing the media remote for an extended period of time. Leaving them in the remote may cause leakage due to battery overdischarge, which may lead to injury or burns.
Use and handling
Do not allow liquid or small particles to get into the product.
Do not touch the product with wet hands.
Do not throw or drop the product or subject it to strong physical shock.
Do not stand on or put objects on the product.
Do not place the product on an unstable surface or leave on the floor.
Never disassemble or modify the product.
Cleaning
Follow the instructions below to help prevent the product exterior from deteriorating or becoming discoloured.
Wipe with a soft, dry cloth.
Do not apply insecticides or other volatile substances.
Do not place any rubber or vinyl materials on the product exterior for an extended period of time.
Do not use solvents or other chemicals. Do not wipe with a chemically-treated cleaning cloth.
Storage conditions
Do not expose the the product or battery to high temperatures, high humidity or direct sunlight during operation, transportation and storage.
Do not leave the product in a car with the windows closed, particularly in hot weather.
Do not expose the product to dust, smoke or steam.
Set up your media remote
Turn on the power
Press the PUSH button on the back of the media remote and remove the rear cover. Keep pressing the PUSH button until the lock disengages.
Insert batteries with their positive and negative ends pointing in the correct direction.
Replace the rear cover. Align the protruded part on the cover with the recessed part on the media remote, and then press until you hear a "click".
Hint
When battery charge runs low, the media remote may not operate properly or the distance at which you can operate the remote may be reduced. When this happens, replace both batteries with new ones.
Pair and set up your media remote
To use the media remote as a controller for your PlayStation®5 console as well as a TV remote, you'll need to pair the remote with your console, and then set up the remote with your compatible TV.Go to the home screen on your PS5™ console and select Settings > Accessories > Media Remote> Set Up Media Remote, and then follow the on-screen instructions to set up your media remote. Infrared (IR) technology enables you to operate certain functions on compatible televisions. For IR operation you must point the IR transmitter of the media remote directly at the device. Check that there are no obstructions between the media remote and the device.
Hints
One media remote can operate only one PS5 console.
 If you switch TVs, you'll need to reconfigure the media remote's settings.
Be sure to always update your PS5 system software to the most recent version.
Hardware part names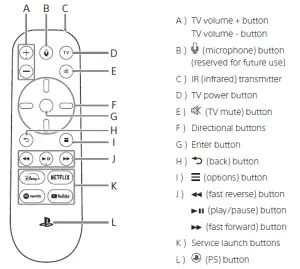 Hint
The TV volume + button and the (play/pause) button have tactile dots to help you find the buttons easily.
Specifications
Power source (2) Size AA batteriesExternal dimensions Approx. 45 × 145 × 26 mm (width × height × depth)Mass Approx. 55 g (Without batteries)Operating temperature 5 °C to 35 °CCountry of production ChinaDesign and specifications are subject to change without notice.
GUARANTEE
This product is covered for 12 months from date of purchase by the manufacturer's guarantee.Please refer to the guarantee supplied in the PS5 package for full details.This product has been manufactured by or on behalf of Sony Interactive Entertainment Inc.,1-7-1 Konan Minato-ku Tokyo, 108-0075 Japan.Imported into Europe and Distributed by Sony Interactive Entertainment Europe Limited, 10 Great Marlborough Street, London, W1F 7LP, United Kingdom.The Authorised Representative for issuing and holding Declarations of Conformity is Sony Belgium, bijkantoor van Sony Europe B.V., Da Vincilaan 7-D1, 1930 Zaventem, Belgium.
For customers in Europe and Turkey.
RE Directive "Informal DoC" statementHereby, Sony Interactive Entertainment Inc., declares that this product is in compliance with the essential requirements and other relevant provisions of Directive 2014/53/EU.For details, please access the following URL: https://www.compliance.sony.de/ The frequencies used by the wireless networking feature of this product are the 2.4 GHz (Bluetooth®) range.Wireless frequency band and maximum output power: – Bluetooth® 2.4 GHz: less than 10mW.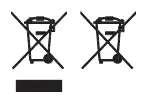 Where you see either symbol on any of our electrical products, batteries or packaging, it indicates that the relevant electrical product or battery should not be disposed of as general household waste in the EU, Turkey, or other countries with separate waste collection systems available. To ensure correct waste treatment, please dispose of them via an authorised collection facility, in accordance with any applicable laws or requirements. Waste electrical products and batteries may also be disposed of free of charge via retailers when buying a new product of the same type. Furthermore, within EU countries larger retailers may accept smallwaste electronic products free of charge. Please ask your local retailer if this service is available for the products you wish to dispose of. In so doing, you will help to conserve natural resources and improve standards of environmental protection in treatment and disposal of electrical waste.This symbol may be used on batteries in combination with additional chemical symbols. The chemical symbol for lead (Pb) will appear if the battery contains more than 0.004% lead.
Read More About This Manual & Download PDF:
[xyz-ips snippet="download-snippet"]