SONY CFI-ZMR1 Playstation Media Remote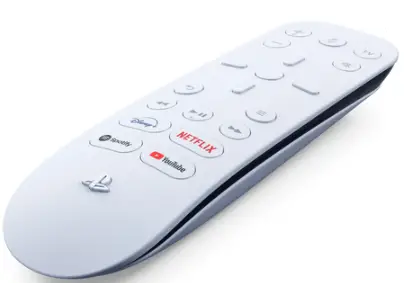 PrecautionsBefore using this product, carefully read this manual and retain it for future reference. Parents and guardians of children should read this manual and make sure that children follow all safety precautions.
Safety
If you come into contact with material from a leaking battery, take the following actions:

If the material gets into the eyes, do not rub. Immediately flush the eyes with clean water and seek medical attention.
If the material comes into contact with the skin or clothes, immediately rinse the affected area with clean water. Consult your doctor if inflammation or soreness develops.

Do not place batteries in water or fire. Do not disassemble, heat, modify, or charge the batteries. Doing so may cause the batteries to leak or become damaged, which may lead to injury or burns.
Use only AA batteries. Do not combine old and new, or different types of batteries. Using batteries of different capacities may cause explosion or leakage, which may lead to injury or burns.
Insert batteries in the correct direction. Batteries can short-circuit when their positive and negative ends are reversed. This may cause batteries to overheat, explode, or leak, which may lead to injury or burns.
Dispose of used batteries according to the battery manufacturer's instructions or local regulations.
Remove batteries when they have reached the end of their life, or when storing the media remote for an extended period of time. Leaving them in the remote may cause leakage due to battery overdischarge, which may lead to injury or burns.
Keep the product out of the reach of small children.
Use and handling
Do not allow liquid or small particles to get into the product.
Do not touch the product with wet hands.
Do not throw or drop the product or subject it to strong physical shock.
Do not stand on or put objects on the product.
Never disassemble or modify the product.
Do not place this product on an unstable surface or leave on the floor.
Cleaning
Follow the instructions below to help prevent the product exterior from deteriorating or becoming discolored.
Wipe with a soft, dry cloth.
Do not apply insecticides or other volatile substances.
Do not place any rubber or vinyl materials on the product exterior for an extended period of time.
Do not use solvents or other chemicals. Do not wipe with a chemically-treated cleaning cloth.
Storage conditions
Do not expose the product to high temperatures, high humidity or direct sunlight during operation, transportation and storage.
Do not leave the product in a car with the windows closed, particularly in hot weather.
Do not expose the product to dust, smoke or steam.
FCC and ISED Canada Notice
This equipment complies with FCC and ISED Canada radiation exposure limits set forth for an uncontrolled environment and meets the FCC radio frequency (RF) Exposure Guidelines and RSS-102 of the ISED Canada radio frequency (RF) Exposure rules. This equipment has very low levels of RF energy that are deemed to comply without testing of specific absorption rate (SAR).This transmitter must not be co-located or operated in conjunction with any other antenna or transmitter.
NOTE:This equipment has been tested and found to comply with the limits for a Class B digital device, pursuant to Part 15 of the FCC rules.These limits are designed to provide reasonable protection against harmful interferencein a residential installation. This equipment generates, uses, and can radiate radio frequency energy and, if not installed and used in accordance with the instructions, may cause harmful interference to radio communications. However, there is no guarantee that interference will not occur in a particular installation. If this equipment does cause harmful interference to radio or television reception, which can be determined by turning the equipment off and on, the user is encouraged to try to correct the interference by one or more of the following measures:
Reorient or relocate the receiving antenna.
Increase the separation between the equipment and receiver.
Connect the equipment into an outlet on a circuit different from that to which the receiver is connected.
Consult the dealer or an experienced radio/TV technician for help.You are cautioned that any changes or modifications not expressly approved by the party responsible for compliance could void the user's authority to operate the equipment. For assistance with this product, visit playstation.com/help. The phone number in the supplier's declaration of conformity is only for FCC electrical interference inquiries.
Supplier's Declaration of Conformity
Trade Name : SONYModel No. : CFI-ZMR1Responsible Party : Sony Electronics Inc.Address : 16535 Via Esprillo, San Diego, CA 92127 U.S.A.Telephone No. : 858-942-2230 (Only for FCC electrical interference inquiries)This device complies with Part 15 of the FCC Rules and Innovation, Science and Economic Development Canada's licence-exempt RSS(s). Operation is subject to the following two conditions: (1) this device may not cause harmful interference, and (2) this device must accept any interference received, including interference that may cause undesired operation.This Class B digital apparatus complies with Canadian ICES-003.
End of life product recyclingThis product is made of plastics, metals, and a removable battery. Follow local regulations when disposing of the product. Sony products can be recycled for free in the United States and Canada by dropping the product off at a number of nationwide locations. For details, visit www.sony.com/ecotrade.
Set up your media remote
Turn on the power
Press the PUSH button on the back of the media remote and remove the rear cover. Keep pressing the PUSH button until the lock disengages.
Insert batteries with their positive and negative ends pointing in the correct direction.
Replace the rear cover.Align the protruded parts on the cover with the recessed parts on the media remote, and then press until you hear a "click".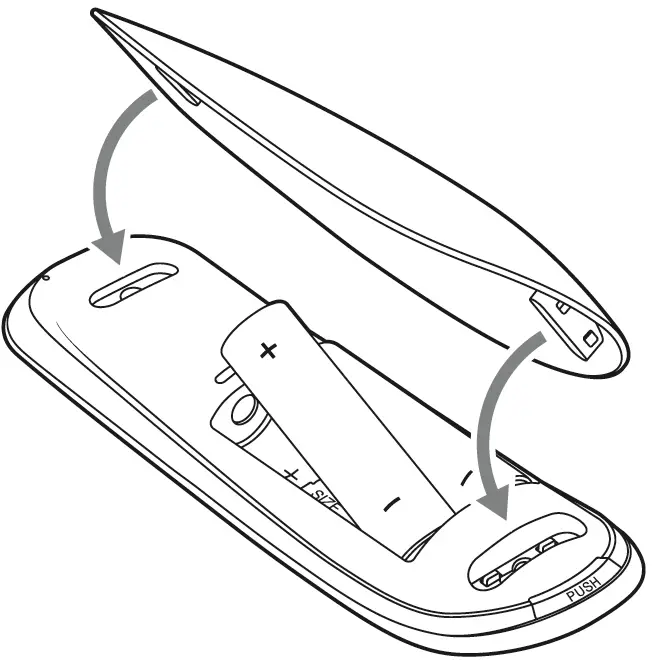 HintWhen battery charge runs low, the media remote may not operate properly or the distance at which you can operate the remote may be reduced. When this happens, replace both batteries with new ones.
Pair and set up your media remoteTo use the media remote as a controller for your PlayStation®5 console as well as a TV remote, you'll need to pair the remote with your console, and then set up the remote with your compatible TV.Go to the home screen on your PS5™ console and select Settings > Accessories > Media Remote > Set Up Media Remote, and then follow the on-screen instructions to set up your media remote.Infrared (IR) technology enables you to operate your compatible television. For IR operation you must point the IR transmitter of the media remote directly at the device. Check that there are no obstructions between the media remote and the device.
Hints
One media remote can operate only one PS5 console.
If you switch TVs, you'll need to reconfigure the media remote's settings.
Be sure to always update your PS5 system software to the most recent version.
Hardware part names
A ) TV volume + button TV volume – buttonB ) (microphone) button (Reserved for future use) C ) Infrared (IR) transmitter D ) TV power buttonE ) (TV MUTE) buttonF ) Directional buttonsG ) Enter buttonH )(back) buttonI )(options) buttonJ )(fast reverse) button (play/pause) button (fast forward) buttonK ) Service launch buttonsL ) (PS) button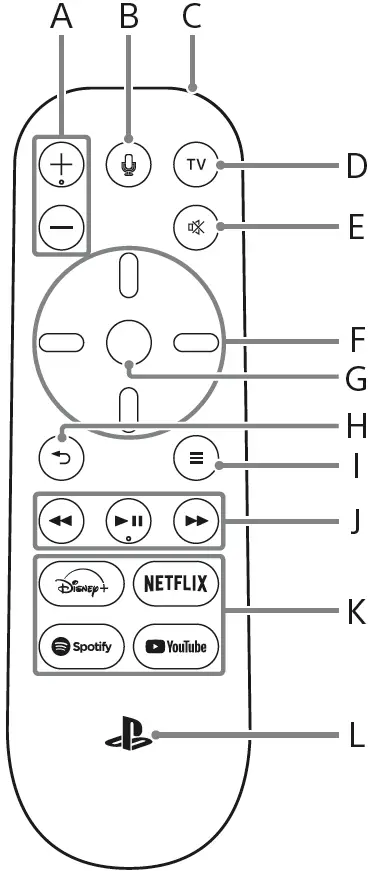 HintThe TV volume + button and the (play/pause) button have tactile dots to help you find the buttons easily.
Specifications
Power source                                              Size AA batteries (2 pcs)External dimensions                                   Approx. 1.8 × 5.7 × 1.0 in (45 × 145 × 26 mm) width × height × depthWeight                                                        Approx. 1.9 oz (55 g) without batteriesOperating temperature                               41 °F to 95 °F (5 °C to 35 °C)Design and specifications are subject to change without notice.
LIMITED WARRANTY
Sony Interactive Entertainment LLC ("SIE LLC") warrants to the original purchaser that this product shall be free from defects in material and workmanship for a period of one (1) year from the date of purchase. This warranty does not apply to any consumables (such as batteries). For defects in material or workmanship within the warranty period, upon showing a proof of purchase, SIE LLC agrees for a period of one (1) year to either repair or replace this product with a new or factory recertified product at SIE LLC's option. For the purpose of this Limited Warranty, "factory recertified" means a product that has been returned to its original specifications. Visit playstation.com/help or call 1-800-345-7669 to receive a return authorization and shipping instructions. As the original purchaser, you will be responsible for inbound shipping costs and any packaging materials required. SIE LLC will then return the repaired or replaced product at no cost to you including return shipping. This warranty shall not be applicable and shall be void if the defect in the SIE LLC product has arisen through abuse, unreasonable use, mistreatment, neglect, or means other than from a defect in materials or workmanship.THIS WARRANTY IS IN LIEU OF ALL OTHER WARRANTIES AND NO OTHER REPRESENTATIONS OR CLAIMS OF ANY NATURE SHALL BE BINDING ON OR OBLIGATE SIE LLC. ANY IMPLIED WARRANTIES APPLICABLE TO THIS PRODUCT, INCLUDING WARRANTIES OF MERCHANTABILITY AND FITNESS FOR A PARTICULAR PURPOSE, ARE LIMITED TO THE ONE (1) YEAR PERIOD DESCRIBED ABOVE. IN NO EVENT WILL SIE LLC BE LIABLE FOR INCIDENTAL OR CONSEQUENTIAL DAMAGES RESULTING FROM POSSESSION, USE OR MALFUNCTION OF THE SIE LLC PRODUCT. SOME STATES OR PROVINCES DO NOT ALLOW LIMITATION ON HOW LONG AN IMPLIED WARRANTY LASTS AND SOME STATES DO NOT ALLOW THE EXCLUSION OR LIMITATIONS OF CONSEQUENTIAL OR INCIDENTAL DAMAGES, SO THE ABOVE LIMITATIONS OR EXCLUSION MAY NOT APPLY TO YOU.This warranty gives you specific legal rights, and you may also have other rights which vary from state to state or province to province.This warranty is valid only in the United States and Canada.
References
[xyz-ips snippet="download-snippet"]