GHOST IILIGHTWEIGHT BLUETOOTH ®HEADSET WITH VIRTUAL ASSISTANT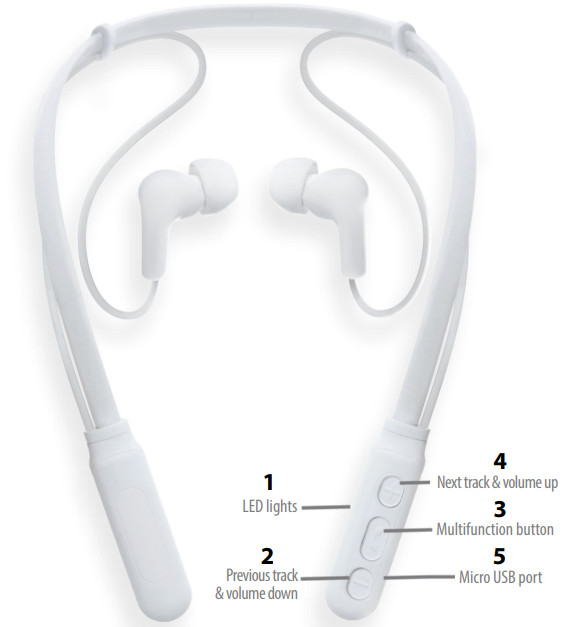 Package Contents:Bluetooth® HeadsetMicro USB cableManual855-999-8041 | www.xtremecables.com
Charging Bluetooth® Headset
To charge your GHOST II Bluetooth® Headset, connect the supplied cable to the Micro-USB (5) charging port and connect the other end to a USB power outlet (5V adapter not included) for a minimum of 3 hours. LED is red when charging and turns off when fully charged.
For best performance, please make sure the battery is fully charged before use.
Operating Bluetooth® Headset
Turn the GHOST II Headset on by holding the Multifunction Button (3) until the LED lights (1) begin flashing blue and red.
The headset will enter pairing mode. Enable Bluetooth® search mode on your audio device and search for pairing name "GHOST II" and select it on your audio device. Once the GHOST II Bluetooth® Headset has successfully connected, your device will state that the device has been connected. The LED will flash blue.
Press the Multifunction Button (3) to answer calls, pause and play and hang-up call.
To change to the next track, short press the " + " (4) To raise the volume, long-press the volume + Button (4)
To change to the previous track, short press the " – " (2) To lower volume, long-press the Volume – Button (2)
To power down the headset, hold the Multifunction button (3) for 3 seconds until the device "chimes". The LED light indicator will remain off.
Using the Voice Assistant
To activate Siri® or Google® virtual assistant, double-press the Multifunction Button (3).
Wait for the chime sound, then begin speaking. You can say commands like, "What is the weather today?" or "Text Mom, I'll be there at 6." Refer to your device's manual for a  full list of available voice command options.
To enable "Ok Google" or "Hey Siri" always-listening feature on your phone, refer to your phone's manual for step-by-step setup instructions. Once enabled, say "OK Google"  or "Hey Siri" to activate the voice assistant and speak directly to your phone through your headset when prompted. (Note: Your device must be in range to use its "always listening" microphone to trigger the voice assistant, once its trigger you may begin speaking through the headset when prompted)
(For Android devices, Google Assistant will  be activated and for Apple devices, Siri voice assistant will be activated.)
SAFETY AND CARE INSTRUCTIONS:
Do not attempt to disassemble the unit. Repairs to electrical equipment should only be performed by a qualified service person. Improper repairs may place users as risk and void warranty.
Do not use this unit for anything other than its intended user or purpose. Doing so may damage the device and void the warranty.
Do not puncture or harm the exterior surface of the product in any way. This product is not a toy. Keep out of reach of children.
Do not expose batteries or battery packs to excessive heat or open flame.
Do not expose the unit to extremely high or low temperatures as this will shorten the life of the device, destroy the battery, and /or distort certain parts.
Do not use abrasive cleaning solvents to clean the unit.
In order to prolong battery life, turn off when not in use.
ONE YEAR WARRANTY
Xtreme warrants its products for ONE YEAR against defects in manufacturing under regular consumer use with the original receipt of retail purchase.We believe in our products and want to provide you with a replacement if needed, but we have to know about the problem while the product is still under warranty. If you discover a defect covered by this warranty, please contact us about receiving a replacement. In order to use the product's warranty, the customer must provide proof of the retailer's receipt.*Any customers outside of the U.S. will be responsible for shipping and handling charges if a replacement is required that is not due to a manufacturing defect. If there is not a  manufacturing defect, shipping and handling will be applied.Xtreme's warranty is limited to our products only. Our warranty does not cover the replacement or repair cost of any third-party accessory, electronic device or personal property.For instructions about how to obtain warranty service for your product, please contact Customer Service at [email protected] 
GHOST II and Xtreme Cables are brands of Jem Accessories.The Bluetooth® word mark and logos are registered trademarks owned byBluetooth Sig, Inc. and any use of such marks by Jem Accessories is under license.Google Assistant is a registered trademark of Google LLC.Siri is a registered trademark of Apple, Inc.
[xyz-ips snippet="download-snippet"]