HELIOTRUE WIRELESS BLUETOOTH® SPEAKER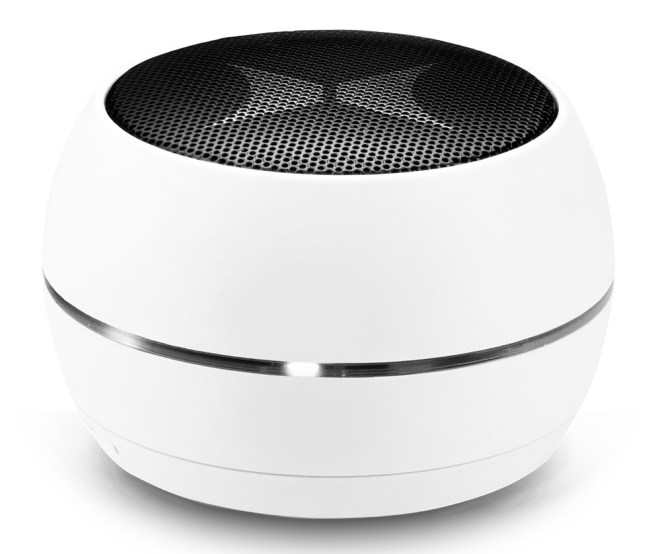 Package Contents:Bluetooth® TWS Speaker1.5ft Micro USBCharging CableManual855-999-8041 www.xtremecables.com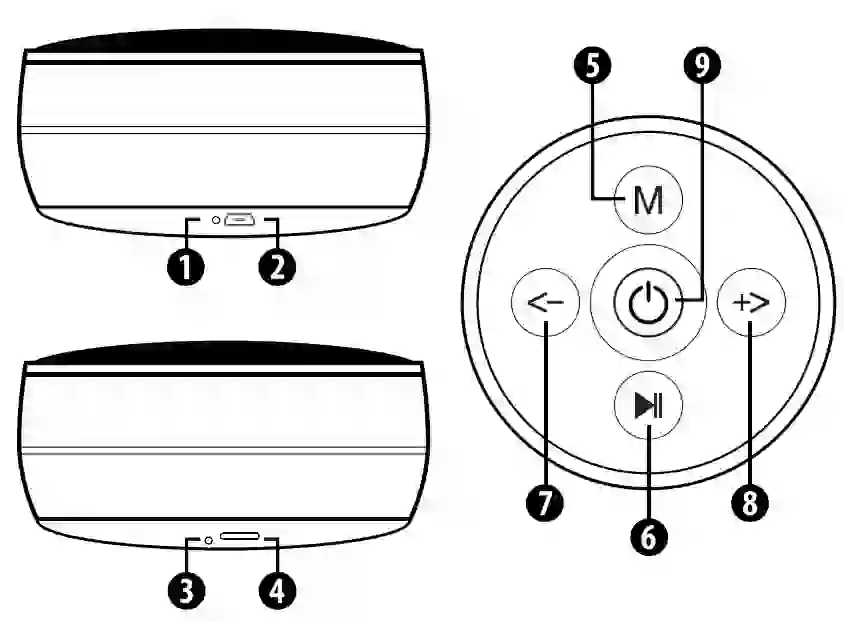 FUNCTION KEY
LED Indicator Light
Micro USB Charging Port
Microphone
Micro SD/TF Card Slot to 32GB, not included) {Supports up
Mode Button
Play/Pause Button
Volume Down/ Previous Track Button
Volume Up/Next Track Button
On/Off Button
MANUAL KEY FUNCTIONS
Your speaker is equipped with a few shortcut keys:Answering a callYou will hear a ring tone when receiving an incoming call. Press the Play/ Pause button (6) to answer the call. Press and hold theVolume Up/ Down (7, 8) to adjust the call volume.Ending/ rejecting a callPress the Play/ Pause button (6) to end a call. When receiving a call,press and hold the Play/ Pause button to reject it.Switching ModesPress the "M" button (5) to switch between modes,
POWER ON/OFF YOUR HELIO SPEAKER
Hold the On/ Off button (9) for about 3 seconds to turn on the speaker.the blue indicator light will flash. Press and hold again for about 3 seconds to turn off the speaker.
CHARGING YOUR SPEAKER
The HELIO comes with a built-in rechargeable battery. Before using the speaker for the first time, we recommend you charge the battery fully. Be sure to turn off the speaker before charging. Use the supplied micro USB cable to charge the speaker.  Connect the included micro USB cable to a 5V USB power supply (not included) and the micro USB end into the speaker (2).  The LED light (1) will illuminate red when the speaker is charging. The LED light will turn off once the speaker is fully charged, at which point the speaker will be ready for use. When the battery is low, a warning sound will prompt. When this occurs, please charge your speaker.
PAIRING YOUR SPEAKER
Turn the speaker on by holding the On/ Off button (9) for approximately 3 seconds. The LED indicator (1) light will blink blue and beep, indicating your speaker is now discoverable.
Be sure the device you wish to pair is no more than 10 feet away from the speaker.
Ensure Bluetooth® is enabled on your device. Refer to manufactures instructions to learn how to enable Bluetooth® on your device.
Once Bluetooth® is enabled on your device, select "HELIO" from the list of available Bluetooth® devices. Once your speaker has been successfully connected, the LED indicator (1) will slowly flash blue and beep.
If pairing is unsuccessful, turn off the speaker and repeat these steps once more.
SECOND SPEAKER OPTION (NOT INCLUDED)
Ensure both speakers are turned off before pairing.
Ensure the speakers are not connected to any device before pairing.
Turn both speakers on simultaneously.
Double press the"M" button (5) on one of the speakers to pair two HELIO speakers automatically. You while hear a beep when pairing is successful. The other speaker will beep to indicate it is now ready to pair with a Bluetooth® enabled device.
Refer to steps through for"Pairing Your Speaker" (Page 2).NOTE: Double press M" button to disconnect between two speakers
USING MICRO SD/TF CARD (NOT INCLUDED)
Be sure the speaker is off.
Prepare MP3 playlist on your Micro SD/TF card (only supports MP3 file format).
Insert the card into the card slot (4).
Turn speaker on (9). Once on, the speaker will automatically play music stored on SD/TFF card.
To stop playback, turn speaker off (9). Be sure speaker is off before removing SD/TF card.
LISTENING TO FM RADIO
Turn the speaker on and press "M" (5) to switch modes.
 Press the Play/Pause button (6) to search for FM stations. The LED will flash blue rapidly when searching and flash normally when finished.
Ifno FM station can be reached, please relocate speaker for a stronger signal and repeat step 2.
Short press Volume Up (8) or Volume Down (7) buttons to switch between stations. Long press to raise Volume Up/ Down  (8,7) to adjust volume.NOTE: Plug included micro USB cable in as an antenna for better signal.
ONE YEAR WARRANTY
Xtreme warrants its products for ONE YEAR against defects in manufacturing under regular consumer use with the original receipt of retail purchase.
We believe in our products and want to provide you with a replacement if needed, but we have to know about the problem while the product is still under warranty. If you discover a defect covered by this warranty, please contact us about receiving a In order to use the replacement of the product. warranty the customer must provide proof of the retailer's receipt.
*Any customers outside of the U.S. will be responsible for shipping and handling charges if a replacement is required that is not due to a manufacturing defect. If there is not a manufacturing defect, shipping and handling will be applied.
Xtreme's warranty is limited to our products only. Our warranty does not cover the replacement or repair cost of any third-party accessory, electronic device or personal property. For instructions about how to obtain warranty service for your product, please  contact Customer Service at [email protected]
Specifications:
Bluetooth 5.0Range: 3oftFrequency Response Range: 150Hz- 20kHzSpeaker Output: 3WCharge Time: 2-3 HoursPlay Time: 2-3 HoursBattery: 300mAh
[xyz-ips snippet="download-snippet"]