PULSEBluetooth Music Light Show SpeakerUser Manual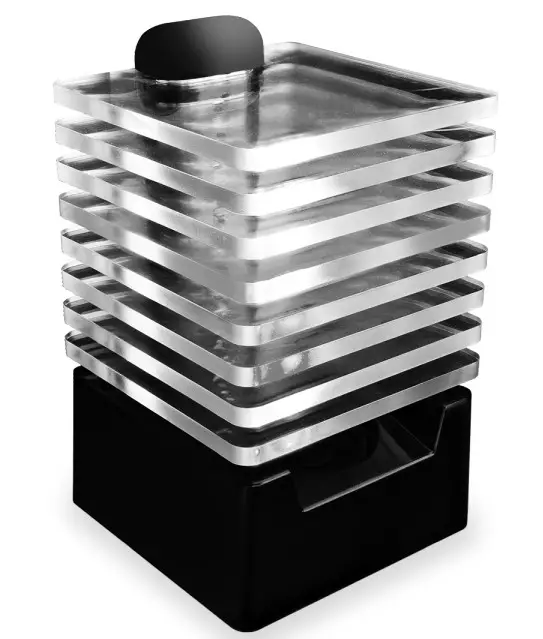 855-999-8041 | www.xtremecables.com
Package Contents:Bluetooth® SpeakerMicro USB Charging cableManual
CHARGING BLUETOOTH SPEAKER
Please make sure the battery is fully charged before initial use. To charge your Xtreme Pulse Bluetooth Speaker, connect the supplied Micro USB cable into the Micro USB charging port and connect the other end to a USB power outlet (5V adaptor not included). The LED indicator (1) will illuminate RED to indicate that the speaker is charging. Allow approximately 3-4 hours charging time for the speaker to fully charge. When battery is fully charged, the LED will turn OFF.
OPERATING BLUETOOTH SPEAKER
Power the Pulse Speaker on by sliding the ON/OFF Power Switch (2).
The speaker will enter pairing mode. Enable Bluetooth® search mode on your audio device and search for pairing name"PULSE" and select it on your audio device. Once the speaker is connected, the speaker will prompt a tone that it has been paired successfully.
Volume and playback settings can be adjusted on your phone or connected audio device.
Slide the switch (2) to the OFF position to power down the device. When musk is playing, the ambient light panels will illuminate to the beat of the musk.
FUNCTION KEY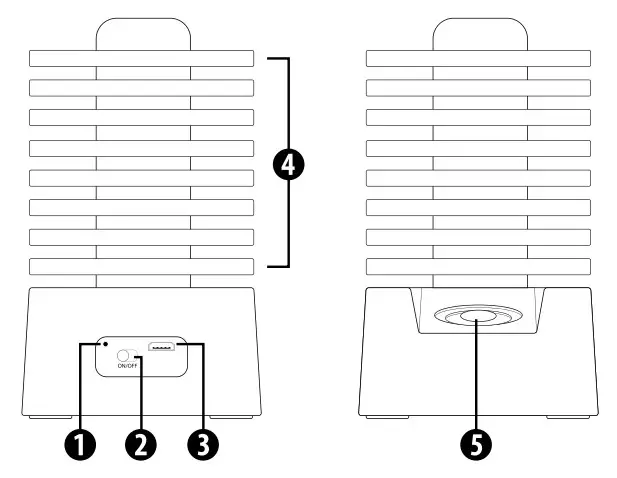 LED Indicator
Power Switch
Micro USB Port
LED Light Panels 5. Speaker
CARE AND MAINTENANCE
Wipe the product with a damp cloth and dry thoroughly.
Store the product in a dry area.
Do not place the device on or near any hot surfaces.
Please keep this manual in a safe place for future reference.
IMPORTANT
Do not use the product if it has been damaged in any way.
Do not use the speaker for anything other than its intended use.
Keep out of reach of children as this product is not a toy.
ONE YEAR WARRANTY
Xtreme warrants its products for ONE YEAR against defects in manufacturing under regular consumer use with the original receipt of retail purchase.We believe in our products and want to provide you with a replacement if needed, but we have to know about the problem while the product is still under warranty. If you discover a defect covered by this warranty, please contact us about receiving a replacement. In order to use the product's warranty, the customer must provide proof of the retailer's receipt.*Any customers outside of the U.S. will be responsible for shipping and handling charges if a replacement is required that is not due to a manufacturing defect. If there is not a  manufacturing defect, shipping and handling will be applied.Xtreme's warranty is limited to our products only. Our warranty does not cover the replacement or repair cost of any third-party accessory, electronic device, or personal property.For instructions about how to obtain warranty service for your product, please contact Customer Service at [email protected]
SPECIFICATIONS
Bluetooth® Version: 5.0300mAh Battery3W Speaker ChargingTime: 3-4 HoursPlay Time: 2-3 Hours
[xyz-ips snippet="download-snippet"]